Hello Chaps,
As many of you have already discovered, we now have a FACEBOOK PAGE. Please tell your old PB friends.
Many thanks to Mick Baker for setting it up.
Cris Haldenby has found a film I've not seen before. It was made by Mr Stanbrooke and Mr Saunders in 1964. Here's a LINK.
We've heard from John "Dusty" Miller who's provided us with more of our teacher's names and a very interesting letter from "Down Under".
Here's part of Dusty's letter...

My memories of teachers are (correct me if I'm wrong) :-
Messrs (Harry) Flux, (SAS) Audis, (Brian) Lansley - Maths
Mr (Tom) Boyland - History
Mr (Shorty) Martin - Physics (Thanks for stirring my interest in Electronics)
Mr (Jock) Petrie - Metalwork
Mr (Don) House - Phys Ed
Mr Milton - Biology and Rural Science (gardening)
Mr Stanbrook - Technical Drawing
Mr (The Rev) Higgins - Religious Instruction
Mr (Ralph) Lambert - Geography
Mr (Ozzie) Saunders - English and English Lit
Mr (Peter) May-Miller - French and Rugby

Does anyone remember the trip to Switzerland about 1957, organised by Mr. Lambert? I returned there with my mother some 35 years later, staying in the same hotel - The Alpenrose, and the same family was running it.
Read the rest of Dusty's letter here (you may need to down load Adobe Reader -it's free!). Dusty's updated contact details are on the contact board page
Graham Phillips has helped out providing names for the Barton teachers on the photo that Mr Mitchell sent me (see below). Graham adds that he remembers the following teachers: "Sammy" Aldus (maths.) Miss Pugh (music) "Gart"'Blackmore (English) "Able seaman, scrub the deck" Higgins (RI) woodwork / bookbinding teacher (name forgotten)"'Old Man" Lewis (general) the new headmaster R. M. Flux (initials may be wrong). Graham, there are photos of some of these on Dave Smith's page. If anyone else have photo's, please share them.
And finally (for the time being, we've heard from a young chap called Richard Chase (he's only 65 - a nipper!). Richard writes:
Hi Tim ,
I have just discovered the old school website and what a surprise to read so many snippets with lovely memories.
My school background is as above (Priory Boys 1964 - 1969), but as I left the island upon leaving school I lost contact with old school mates.
My Dad was a Prison Officer (albeit an Islander by birth) and I followed them to Surrey, having lived with my Grandparents for a short while until finished school in 1969. Some old boys may remember them who lived at the end of Dodnor Lane with the fishing lake known locally as 'Chase's Pond'.
I had a full career in Surrey Police retiring as a Detective Inspector and then continued as a civil servant at the Home and Foreign Office.
At school I only really remember the Sports teacher Eddie Fentum and it was nice to read his note and pic. I loved sports at school (seen the Rugby team pic I am in for the first time) and attached a couple of Football teams pics with names. In fact, I am still playing veterans Basketball, so I am sure Eddie will be impressed!
I can recall a few events, but generally I mostly enjoyed the more practical classes of woodwork and tech drawing but probably most of us we were 'late developers' having failed the 11 plus exam.
To finalise, by all means include my details for others to see and I will certainly monitor the website.
Best regards,
Richard Chase aged 65!
Born 1953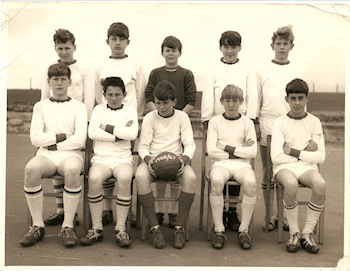 1965/66 team- :Junior Team 2nd year:
Back row L-R: Cato, Green, Woodmoore, Downer, Bounds, Bradly, Raynard;
Front row L-R: Gaches, Brown, Crieghton (Capt), Wright, Chase, Ambler.
1966/67 team 3rd year:
Back row L-R: Wright, Woodmoore, Audus, Gaches, Green;
Front row L-R: Chase, Ambler, Creighton (Capt), Cato, Bradly.
Here are Richard's photos of the football teams '65/'66 and '66/67 (click to expand). Recognise anyone?
A big thank you to Keith Lane and Abu Gates for arranging the "last visit". Dave Betts took some great photos - have a look!.
Here's the final register that Keith got you all to sign.
Tim Axford was very successful contacting his old football team circa 1968/69 (see photo) and there's an updated photo of the team on the photo's page. The photo was taken at a great evening at the Chequers Inn where we got a chance to catch up with a couple of ex-teachers - Ed Fentum and Brian Blenkesop. Anyone got any photos? .
Read Mr Fenton's email here. He also sent some photographs which have been added to the "more photos" page.
Keith has also been very busy rummaging through his drawers and has come up with a cornucopia of treasures. I have started a memorabila page where you can rumage yourselves.
I'm pleased to say another old boy has been in touch - Geoff Reynolds. He's sent us a couple of photographs, including one of Mr.Marsen's school choir "1965/6". Geoff writes " I'm right in the middle, back row, 5th in from either side. Two to my right is David Millmore, my lifelong friend, also now in America. I can name some of the others, Melvyn Hatcher, artist extrordinaire and Trevor Salter, with whom I did my final years project on 'The Aircraft of the IoW'. Read all of Geoff's letter here.
A mystery solved!
Kevin Elliott has been in touch after finding the website and particularly the colour photo of the 1968/69 football team. "I'm the 'not sure' standing second from the left"; adding, "Always good to know you left such a lasting impression". After leaving school, Kevin pursued a career in the police. Thanks for getting in touch, Kevin. We now have a complete team list. Read Kevin's message.
Another mystery solved (possibly).
I had an email from Chris Plumbley (1957 - 1962), whose career has taken him to Scotland, Australia, Russia and Kazakhstan!
"...after talking to Abu regarding the planned visit to Priory Boys, I took a long look at the PBS web page and it's possible I'm one of the pupils in the attached photo (back row, third from left).
Chris is referring to Simon Flack's photo.
Read Chris's email here.
John Way has also been in touch on the subject of the same photo. He writes "My brother, Paul Way, is third from the left in the back row.(looking over the shoulder of the boy in the white shirt). He is now an Architect in London. ". Can you help John contact Richard Brimson? Read John's email here

I'm sure we'd all like to thank Abu Gates and his team for a very successful reunion. You can see Dave Bett's photos of the event here.
Maurice Sheen, author of "Gone, But Not Forgotten" (see bottom of page) has been in touch and his contact details are now on the contact point page.
We've heard from old boy Chris Jones who was in the 5th year when the school went comprehensive and now lives in the Philippines. His details are now on the contact page.
Read Chris's message.
I have two more photos for your delight. This time from Mr Mitchell who, by pure coincidence, found me in the Chequers. The first one is from our famous episode as film stars. I can spot Frank Palin, Keith Lane and Kevin Pulford. Can you put a name to any of the other mud larks?

The second photo is one of the staff cricket team from Barton in the pre-Priory Boys days. He would like help in identifying some of the teachers.


Back row: Oswald Sandy Saunders "Ossie" (English) –"Nobby" Clark (music) –Miller (ex-navy sub-lieutenant PT?) –Mr Harvey (mixed-age uneducables) –"Papa" Warder (general) – Ron "Charlie" Stanbrooke (technical drawing)
Front row: "Ralph" Lambert (geography) – David "Shorty" Martin (science) – "Jock" Ferguson (assistant headmaster and general) – Ernie "Old Man" Morris (headmaster) ?? – Tom "Billy" Boyland – Bill "Moany" Milton (sport and gardening)
Its the four chaps in the middle of the back row I can't identify.
Regards,
Terry Mitchell (now with assistance from Graham Phillips)

Colin Fairweather found a write up of Mr Stanbrooke's film "It's Not Cricket" in an amateur photographic magazine. The film had been entered for a national amateur film competition. Click here to read the write up. Incidentally, we are still not sure where this film has gone. Any clues?
Pete Joyce has been busy scanning in some photographs from his collection like this one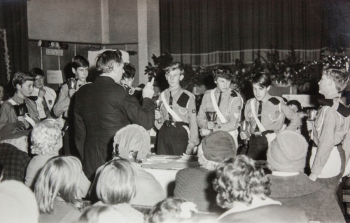 Click here to see the rest
Charlie Truscott has found some more photographs from the "National" (click to expand).
This one is from 1959.


Back row: Pete Baldwin, Colin Sears, Martin Swan, Jim Arkless, Brian Humbe,r Alan Coope,r Iain Petrie, dont know, Mike Mills, Pete Baldwin, John Boyes;
Middle row: Barry Hocking, Iain Fleming, Keith Smith, Roger Liggins, Pete Dyer, Dont know, Wayne Young, Ian Newnham, Terry Hayter;
Front row: Ken James, Andy Creamer, Pete Joyce, Andy Newman, John Wade, Ray Draper, Martin Mills, Derek Reynolds, Derek Townsend, and yours truly (Charlie Truscott) on the wing.
This one is from 1962


Back Row: Brian Humber, Roger Liggins, ME(Charlie Truscott), Keith Smith, Martin Swan, Dont know, Barry Hocking, Ron Shynn, Alan Cooper, Jim Arkless, Dave Betts, John Boyes;
Middle Row: Ian Petrie, Derek Townsend, Don Smith, Dont Know, Ant Pointer, Mark Chiverton, Derek Reynolds, Iain Fleming, Mike West, Mike Mills, Pete Dyer, John Wade;
Front Row: Vince Cockrell, Pete Baldwin, Terry Hayter, Ken James, Martin Mills, Selwyn Hall -- Form Teacher, Andy Newman, Pete Joyce, Ian Newnham, Colin Sears.

We've had another old boy get in touch. Alfie Radlein writes:
"I came across the photos and thought I would respond. I attended from 1955 to 1959 and am interested to see if any one remembers me. I do remember a lot of the old teachers, some with good memories - others not so good! I was in form 4L when I left. If any one would like to get in touch I will be happy to receive mail () , Alfie"
I received a very interesting email from Major Peter Checkley of the Australian Army who recognises himself in the choir photograph below. (First on the left on the back row). Click here to read Peter's email and click here for his contact details.
Simon Flack sent me this photo (click to expand) which he says was taken around 1958. His brother Richard Flack is 2nd from the left on the front row. Can anyone help me put a name to these lads?
UPDATE - Richad Mabey has written...
"I was excited to see the photo below of my class at Priory Boys School 1958. I am middle row third from left white shirt. Bill Brettle is second on left, Michael Hann on left end of row. Dickie Dousland is on my right facing. Front row left is ? Fulford. Back row is a Wray, Derek Morris, ? Donnelly, Alan Nibblet, ? Hunnybun, Alan Ball, that is the best I can remember, it was my last year at the school as I moved to London in 1959. Thanks for posting that, hope this helps to fill some gaps. Regards, Richard Mabey" - Can anyone else help with the names?

John "Dusty" Miller sent me a biography for friends to catch up. Click here to read it.
Here's another photograph to bring back memories - the school choir 1965/66. It was sent by Phil Connor, now living in Detroit (front row, second from right).
How many faces to you recognise? I can spot Geoff DuFeu, John Taylor, John Wilson (who has just sent me his contact details and now living in Bournmouth), Pete Joyce and Ivor Warlow.
- click image to expand

Phil has also sent me a scanned image from the admissions/exit records from 1963 - 1971 which is very interesting (click here).

Amongst the latest Old Prioryians to get in touch have been Barry Cant (who asks that I don't put his contact details next to Barry Cant his cousin with the same name who he's never met!) and Peter (Ray) Upton, another ex pupil of PBS who has done fantastically well. Currently the Director of the British Council in Pakistan with a staff of 300, Peter has written some of his memories down which you can read here as a pdf file.
He remembers the following from his "group": - David Scott, Gavin Hibbs, Peter Capelhorn, Dave Gustar, Peter Blandford, David George, Anthony( tony) Scott and Phil Connor (see above).

Have a look at Dave Smith's Page with some fantastic photo's of some of our well-loved masters.

Here are some more messages and memories :-

Ian "Jock" Collins (read Ian's message as a pdf file)
Mick Baker (read Mick's message as a pdf file)
John "Dusty" Miller has been in touch from Melbourne, Australia and has sent a list of staff and classmates (read here)

Barry Cant sent me a great photo from 1959 (click on it to see who's who)


Barry writes: " Hello, I have attached a word doc showing a photo of form 4P of 1959. I believe there is another photo of the other half of our class. When this photo was taken we all took a turn in the darkroom to print our own copy. After I and my twin brother Michael left school and got some money we set up our own darkroom. Mr Higgins was our teacher." - Thanks Barry! - (NOTE - Mr Higgins is currently residing at the Blackwater Retirement Home and keen to talk about the old days - ED)
Dennis Sibley sent me this photo of the "60/61" class of the National School. Many of the boys would have gone on to Priory. Can you recognise any faces?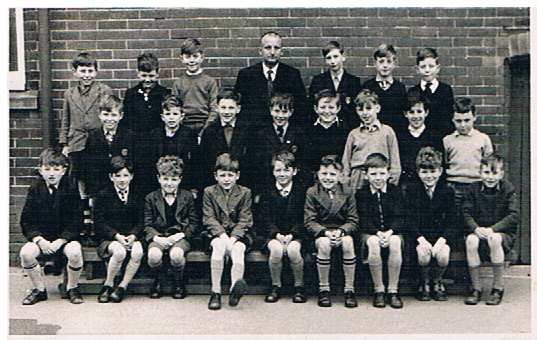 I apologise for still not reproducing copies of Priory Look on the site. I'm trying to work out the best way of doing it.
Since the reunion, a couple of interesting items have come to light:-
Chris Murfet found the press cutting featured below. If you click on it, it should expand so that you can read it.
Andrew Harrison scanned in the programme for 1967 Speech Day (click to download) and the programme for the Sports Day (click to download) from the same year;
and Graham Salter found a history of Priory Boys compiled by our last Head Boy, Maurice J. Sheen. Click on the image to download the pdf file.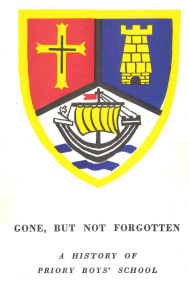 Andy Newman has been appealing (make up your own jokes) for a photo of the JAE playing at the reunion. Did anyone take a photo of the band while they were playing, if so could they contact Andy (details on contact page)

Cheers!

Tim


Email: